Pinocchio was written in 1880 in a serial format but in the style of a folk tale. I imagine that Carlo Coloddi would have been happy to see his creation adapted in the free way the myths and folk tales are.
As I read Pinocchio (which was always my favorite Disney movie growing up), I specifically tried to avoid imagining this:
Of course, those of you who are reading the book know that the tone is drastically different than that of the Disney movie. I avoided this film because of the reviews, but I would now be curious if any of you have seen it: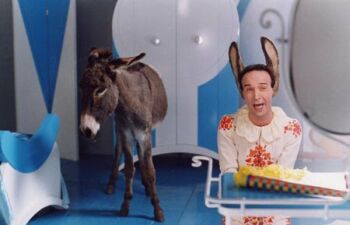 Another American retelling of Pinocchio (I think we all can agree that Spielberg and Kubrick are good flavors that don't mix, much like cotton candy and steak tartare):
Here is a more representative Italian drawing:
Mickey Rooney, anyone?
Five things to think about before book club:
1. Whether the best works of art inspire faithful or unfaithful adaptations
2. The fact that 'children's literature' was not a genre when Coloddi wrote this, and how he both tries to instruct and undercuts that instruction at the same time
3. The role of the Blue Fairy, and the feminine in general, in this boys' story
4. How the Gepetto/Pinocchio relationship is an allegory for artist/art
5. I hate to say it, but all that psychoanalytic stuff (born as wood, shaped into a puppet, only fully human by controlling impulses, and of course the nose.)